What better way to introduce an artist than by his face? Trick question. Yes. Here's the twist. It's not the "face" of the artist we are talking about, but the many "faces" of his subjects. In the world of Eric Perna, a Brazilian-born artist, family, friends and figures from his past and present can be seen on many of his "found" art pieces and canvasses.
These individuals, his subjects, don't seem to mind though, due in great part to Perna's signature style, their "identities," even often to themselves, are unrecognizable. Like so many of the "great" artists, Perna draws on memories of his past to create his images today.
Born in 1975, and growing up in Brasilia, Pernia 's experiences seem to steer his artistic creativity toward men and women, common characters found on the streets of Brazil, the penniless man begging for change offering to clean a car window at a stop light, the contradiction and juxtaposition of prostitute transvestites offering their wares to passersby on the steps of a church. And of course, there's Perna's unique interpretation of Brazilian culture. The images of people in his works are characters in a visual play that is as pleasing to the eye as much as it also reflects a percolating political undercurrent and social-statement art.
Blessed with a gift and extraordinary raw talent, Perna manages to blend the brilliance of aesthetic art into collectable art, works in assorted sizes, shapes, styles and materials, that is equally at home in a residential setting as much as it is in the commercial arena, such as adorning a prominent space in an office building's grand entry way, an investors conference room or an institution's public space.
With multiple shows to his credit and hundreds of sold paintings, the self-taught artists' work has been purchased by collectors, architects, designers and decorators, among others. Perna's unique artistic voice is clear and can be seen prominently in his work of "faces" as well as in his images of "children."
In the artistic choreography between these two different styles of work, Perna moves with equal grace and skill between sometimes dark, morbid, tortured, disfigured "faces" even with disjointed bo
dy parts, limbs askew, to an equally distinguishable style in his children series, titled, "Pernia's" where these images incorporate vibrant colors, oranges and blues, big heads, large eyes and small bodies, the main characters often displaying reflective, uncertain, unknowing expressions. A child on a swing – happy or sad? We can't be sure. Contradictions and interpretations abound. We don't know. He keeps us guessing here as well as in his other works.
A DISTINCT LATIN FLAIR

Perna's work has a distinct Latin/South American flair. His passionate pursuit of art, while not fully discovered until his early 20s, was always in his DNA and nurtured early watching his father, a well-known sculptor in Brasilia, working in his shop.
Technically, by definition, on the one hand Perna is by all accounts an "outsider," using a wide range of "found objects and materials" to create his works. Doors, kitchen cabinets, panels from homes, pieces of distressed wood from "delivery pallets" in discarded trash that he's turned into painted benches, all present a remarkably viable and clever medium for his works.
Canvas, as another primary material, is also a friend with Perna moving his brush, style and talents seamlessly from a piece of "found object de' arte" to small and large canvass where his eye for Abstract work and style shifts with each piece. His brush strokes are at once careful and careless, a single line made with his preferred utensil, a toothbrush, is magical, brilliant perhaps. A schizophrenic mélange of paint, Perner rejects a painter's pallet opting instead for muddy dips of oil direct from the jar from the color of choice of the moment.
For Perna, while creating, his process, his approach, his strokes, every next move sometimes planned, sometimes not, always irreverent, always meaningful and always soulful, always resulting in a work of beauty, whether the face of a tortured soul, an unknowing smile of a child or an abstract open to myriad interpretation.
Perna is committed to producing all original work. No prints, lithographs, serigraphs or Giclees. Every single piece of work, from a 12" x 12" painting on a distressed faded wooden slat, to a door frame and canvass are one time only original works of art. This approach contributes significantly to the artist's near and long term collectability, whether seeking a special piece for a home, gallery, museum or institution.
Florida Art Brokers Introduces Eric Perna
Eric Perna featured in the Brazilian Embassy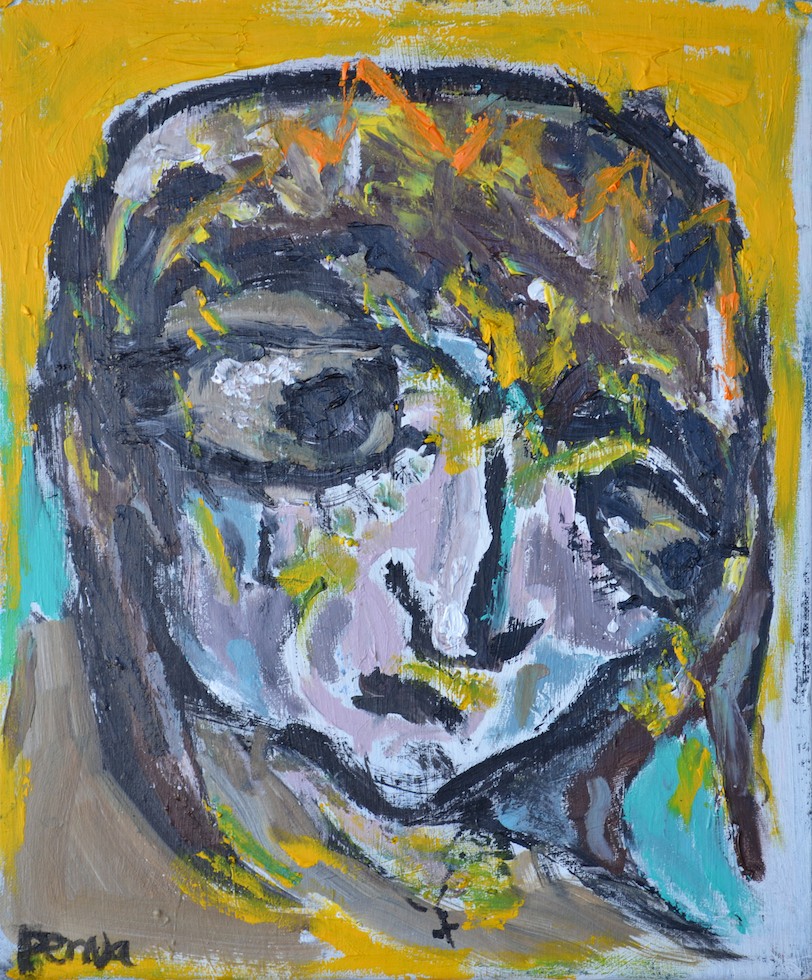 Eric Perna featured at The Brazilian Embassy
Artopia's 2013 Fall Showcase Featuring Eric Perna